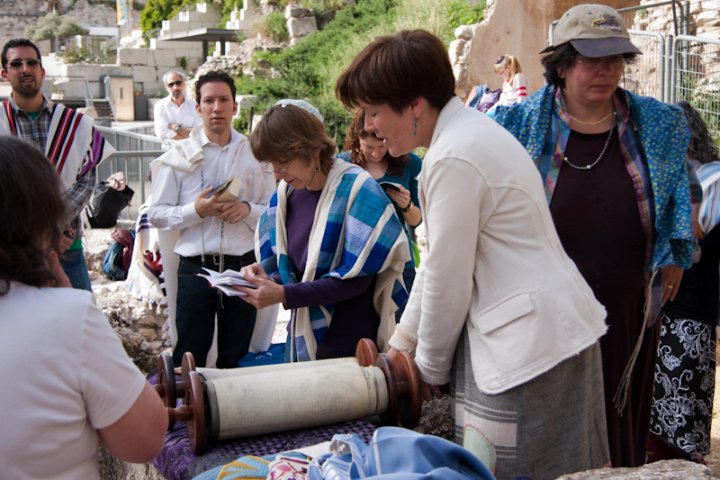 Brief Biography (You can read a more in-depth biography on my About page.)
I was raised in a Christian Evangelical household from about the age of four. I was ushered into the typical general warning to never ask questions. I was taught to believe what the preacher said and not to question his authority. At the age of ten I decided for my parents' sake that I would undergo baptism.  Over the summer many of us preteens and teens became young missionaries. By the end of the summer I was thinking that maybe I wanted to be a missionary and I wanted to "save people from hell."
Around age thirteen my parents and I started attending another church which started out as an Evangelical church but actually became a non-denominational church. I was learning about Judaism from a Christian viewpoint. I knew that I no longer wanted to be a missionary and I started to really question the doctrines of the church. As my world became bigger and I began to have more experience with people outside my own culture and religion, I began questioning if what I was being taught was right. By eighteen my parents stopped fighting with me and I left the church behind. If asked, I continued to call myself a Christian but I was non-practicing.
In my mid-twenties I became even more antagonistic toward organized religion and would have classified myself as an agnostic. I eventually became so angry at God and the world that I became an atheist. By my late-twenties, after doing some soul-searching I decided to look into various faith practices (Christianity, Buddhism, Taoism, Hinduism, Bah'ai, Islam, Judaism).
I contacted the local (Reform) synagogue and requested a meeting with the rabbi. They didn't have a rabbi but they did have student rabbis during the summer. I was fortunate enough to get in to see the student rabbi. After about a year-and-a-half I moved back to the other side of the country and continued my studies there. At 32 I went before a (Conservative) beit din –a rabbinic court – and I immersed in the mikveh. I became Rachel-Esther bat Avraham v'Sarah – a Jew.
My Journey
My philosophy had steadily changed over the years. I continued to associate with the Conservative movement for many reasons (even though I did not stand behind some of the decisions of the movement). I called myself Masorti – traditional. After 12 years of being a Conservative Jew I became a Tanakh-only/Karaite Jew and this is where I have been for the last two years.
I now believe that in order to be a "Light unto the Nations" I as a Jew must teach the truth of Torah to all who are open to it. I believe that mitzvot (Torah commands) are binding upon all Jews but the interpretation of the mitzvot is not stagnant – it must continue to evolve with each person's understanding of the Hebrew text and the history/archaeology of Israel and the ancient nation-states. I believe that using Karaite texts and Rabbinic texts as commentaries can help one to perform these mitzvot.
I am a follower of Torah and the mitzvot of God. I do not believe that halakhah (Talmudic law) is binding upon any Jew since it does not come from God or from the Elders, Judges, Priests, or Sanhedrin (although their judgments may be contained within the Mishnah). I believe that we are commanded to search the Torah and follow the mitzvot while following the legitimate traditions of our forefathers. No one sect or denomination has all the answers. Only Torah has all the answers and we are commanded to seek them out. I choose to align myself with the Reform Movement even though I do not agree 100% with the Movement's polices, responsa, or platforms. I believe that Reform Judaism offers the greatest degree of flexibility in one's own Torah observance while maintaining that the traditions of the Sages and Rabbis are not binding but may be observed as one wishes to do so.